Commercial asphalt takes a lot of abuse, which means it needs to be installed, repaired and cared for by seasoned professionals. At Stevenson's Asphalt, we take pride in delivering only the best commercial asphalt services, from installation and sealcoating to crack filling and parking lot paint in Wills Point, TX.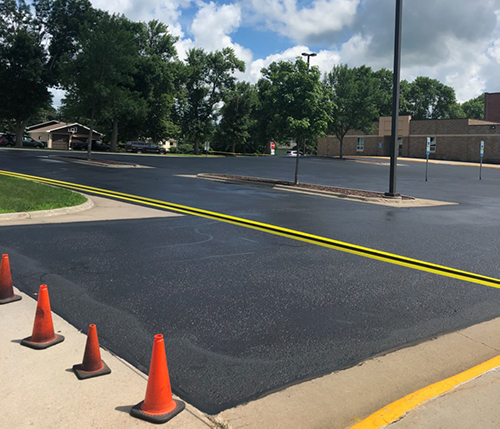 Asphalt Paving & Sealcoating

Count on our experienced team to pave and protect your asphalt surfaces for finished results that look great and stand up to long-term wear and tear. We have experience paving everything from private commercial drives to entire parking lots. We scale our crews and equipment to meet the demands of your job, to ensure it comes in on time, under budget and without any corners cut.
Interested in an economical solution to new asphalt? We also offer recycled asphalt installations (RAP). RAP installations cost less, look great and are a sustainable choice. We'll help you make an investment you can feel great about.

As sealcoating experts, we'll also seal your asphalt against sunlight and moisture to help it hold up against abuse longer. Sealcoating helps you get the most from your investment and can reduce the cost of maintenance and repairs over time.

Asphalt Repair

Come to us when your surface needs asphalt repairs and we promise results that prolong the life of your surface and restore its integrity. We primarily provide cheap sealing and hot crack filling.

Chip sealing fills in divots and gouges to prevent standing water and other debris from deteriorating the integrity of your asphalt surface. Hot crack filling seals up any cracks or splits in your asphalt to prevent moisture from penetrating deeper to ruin the foundation of your asphalt. When we're done, your asphalt will look like new and stand up resiliently to commercial levels of use.

Parking Lot Maintenance

Taking care of an asphalt parking lot is a big job and one that Stevenson's Asphalt is equipped to handle. From spot fixes and patching to re-striping and more, we deliver comprehensive parking lot maintenance in Wills Point, TX to our commercial clients who demand perfection from their parking lot surfaces.

Excavating

In addition to asphalt paving equipment, we're also backed by everything needed to provide our customers with excavation services. Whether it's general earthmoving or just some simple grading before asphalt paving, we'll handle it.
Get More Information
For more information about any of our commercial asphalt services, contact Stevenson's Asphalt today at 903-780-8052. We'll be happy to schedule your commercial paving project.